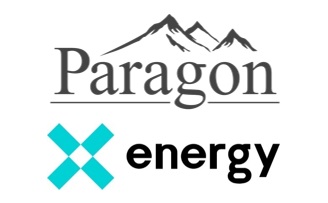 ROCKVILLE, Maryland, December 21, 2022 – X Energy Reactor Company, LLC ("X-energy", the "Company"), a leading developer of small modular nuclear reactor and fuel technology for clean energy generation, in partnership with Paragon Energy Solutions ("Paragon"), a leading specialist in the design and manufacturing of critical safety systems, today announced the completion of a Reactor Protection System ("RPS") prototype, a key safety feature of X-energy's Xe-100 advanced nuclear reactors. The four-division RPS prototype utilizes Paragon's highly integrated protection system (HIPS) and marks the first time that Paragon has deployed HIPS to a Gen IV high-temperature gas reactor (HTGR), an evolution to more robust, reliable, and secure technology that further advances nuclear safety.
X-energy worked with Paragon for two years to develop, deliver, install, and test the RPS prototype in the Company's control room simulator at its Rockville, Maryland headquarters. Paragon has been tapped to build and deliver the four-division RPS to all Xe-100 plants around the world when they are deployed.
"Paragon is committed to supporting a zero-carbon energy future, and is working to develop innovative nuclear solutions that are safer, more reliable, and more cost-efficient," said Doug VanTassell, Paragon's President and CEO. "We are excited a key partner in the deployment of innovative small modular nuclear reactor technology as we enter this long-term strategic agreement with X-energy."
"The completion of these critical safety mechanisms is yet another demonstration of the innovative nuclear technology we are bringing to the market," said X-energy CEO J. Clay Sell. "Safety is the most important objective of our company, our people, and our products. We have developed a system that is more effective and secure, and less costly and complex than legacy systems used by older nuclear power plants. Our system is designed to ensure the safe and secure operation of our reactors at all times."
The RPS is a set of independent and redundant instrumentation and control components that enable the automatic and safe shutdown of a nuclear reactor, providing an added layer of protection for the plant and its environment. RPS uses the HIPS platform developed by Paragon based on Field Programmable Gate Array (FGPA) technology.
FPGA-based systems tend to be more resilient and robust than systems found in older nuclear power plants, and significantly reduce the potential for cyber-attacks, thereby lowering the risk of disruption. The platform is more secure and streamlined because a HIPS FPGA-based system is a hardware-only product with no run-time software. The system's structure and design insulate it from coding errors and reduce cybersecurity risks, thus addressing regulatory concerns about digital safety systems.
The prototype delivery is a milestone  in X-energy's progress toward completing the Department of Energy's Advanced Reactor Demonstration Program ("ARDP"). The DOE selected X-energy to receive up to $1.2 billion of federal cost-shared funding to develop, license, build, and demonstrate operational advanced reactors by the end of the decade. X-energy expects to demonstrate its Xe-100 HTGRs under the program by 2028.
The pioneering Xe-100 design couples its scalability, innovative modularity, enhanced safety and higher temperature capabilities with decades of HTGR research and operating experience. The reactor is fueled by X-energy's proprietary TRISO-X fuel, which has been called "the most robust nuclear fuel on earth" by the U.S. Department of Energy. The Xe-100 is engineered to operate as a single 80-megawatt ("MWe") unit and is optimized as a four-unit plant delivering 320 MWe.
X-energy announced on December 6 plans to list on the New York Stock Exchange through a merger with Ares Acquisition Corporation (NYSE: AAC) ("AAC"). Upon the closing of the transaction, which is expected to be completed in the second quarter of 2023, the combined company will be named X Energy, Inc. and its common equity securities and warrants are expected to be listed on the NYSE.
About Paragon Energy Solutions
Paragon provides an unmatched level of commitment to tackling the nuclear industry's most difficult challenges. Dedicated to quality, safety, reliability, and carbon-free energy, the company delivers premium products to nuclear energy facilities with proven reductions in direct costs, parts inventory, improved process efficiency, and obsolescence solutions. www.paragones.com or (865) 966-5330. Follow Paragon on LinkedIn or Twitter.
About X Energy Reactor Company, LLC
X Energy Reactor Company, LLC, is a leading developer of small modular nuclear reactor and fuel technology for clean energy generation that is redefining the nuclear energy industry through its development of safer and more efficient advanced small modular nuclear reactors and proprietary fuel to deliver reliable, zero-carbon and affordable energy to people around the world. X-energy's simplified, modular and intrinsically safe SMR design expands applications and markets for deployment of nuclear technology and drives enhanced safety, lower cost and faster construction timelines when compared with other SMRs and conventional nuclear. For more information, visit X-energy.com or connect with us on Twitter or LinkedIn.
About Ares Acquisition Corporation
AAC is a special purpose acquisition company (SPAC) affiliated with Ares Management Corporation, formed for the purpose of effecting a merger, share exchange, asset acquisition, share purchase, reorganization or similar business combination. AAC is seeking to pursue an initial business combination target in any industry or sector in North America, Europe or Asia. For more information about AAC, please visit www.aresacquisitioncorporation.com.
Additional Information and Where to Find It
In connection with the business combination (the "Business Combination") with X-energy, AAC will file a registration statement on Form S-4 (the "Registration Statement") with the Securities and Exchange Commission (the "SEC"), which will include a preliminary proxy statement/prospectus to be distributed to holders of AAC's ordinary shares in connection with AAC's solicitation of proxies for the vote by AAC's shareholders with respect to the Business Combination and other matters as described in the Registration Statement, as well as a prospectus relating to the offer of securities to be issued to X-energy equity holders in connection with the Business Combination. After the Registration Statement has been filed and declared effective, AAC will mail a copy of the definitive proxy statement/prospectus, when available, to its shareholders. The Registration Statement will include information regarding the persons who may, under the SEC rules, be deemed participants in the solicitation of proxies to AAC's shareholders in connection with the Business Combination. AAC will also file other documents regarding the Business Combination with the SEC. BEFORE MAKING ANY VOTING DECISION, INVESTORS AND SECURITY HOLDERS OF AAC AND X-ENERGY ARE URGED TO READ THE REGISTRATION STATEMENT, THE PROXY STATEMENT/PROSPECTUS CONTAINED THEREIN, AND ALL OTHER RELEVANT DOCUMENTS FILED OR THAT WILL BE FILED WITH THE SEC IN CONNECTION WITH THE BUSINESS COMBINATION AS THEY BECOME AVAILABLE BECAUSE THEY WILL CONTAIN IMPORTANT INFORMATION ABOUT THE BUSINESS COMBINATION.
Investors and security holders will be able to obtain free copies of the Registration Statement, the proxy statement/prospectus and all other relevant documents filed or that will be filed with the SEC by AAC through the website maintained by the SEC at www.sec.gov. In addition, the documents filed by AAC may be obtained free of charge from AAC's website at www.aresacquisitioncorporation.com or by written request to AAC at Ares Acquisition Corporation, 245 Park Avenue, 44th Floor, New York, NY 10167.
Forward Looking Statements
This press release contains certain forward-looking statements within the meaning of the federal securities laws with respect to the Business Combination, including statements regarding the benefits of the Business Combination, the anticipated timing of the Business Combination, the markets in which X-energy operates and X-energy's projected future results. X-energy's actual results may differ from its expectations, estimates and projections (which, in part, are based on certain assumptions) and consequently, you should not rely on these forward-looking statements as predictions of future events. Words such as "expect," "estimate," "project," "budget," "forecast," "anticipate," "intend," "plan," "may," "will," "could," "should," "believes," "predicts," "potential," "continue," and similar expressions are intended to identify such forward-looking statements. Although these forward-looking statements are based on assumptions that X-energy and AAC believe are reasonable, these assumptions may be incorrect. These forward-looking statements also involve significant risks and uncertainties that could cause the actual results to differ materially from the expected results. Factors that may cause such differences include, but are not limited to: (1) the outcome of any legal proceedings that may be instituted in connection with any proposed business combination; (2) the inability to complete any proposed business combination or related transactions; (3) inability to raise sufficient capital to fund our business plan, including limitations on the amount of capital raised in any proposed business combination as a result of redemptions or otherwise; (4) delays in obtaining, adverse conditions contained in, or the inability to obtain necessary regulatory approvals or complete regulatory reviews required to complete any business combination; (5) the risk that any proposed business combination disrupts current plans and operations; (6) the inability to recognize the anticipated benefits of any proposed business combination, which may be affected by, among other things, competition, the ability of the combined company to grow and manage growth profitably, maintain relationships with customers and suppliers and retain key employees; (7) costs related to the proposed business combination; (8) changes in the applicable laws or regulations; (9) the possibility that X-energy may be adversely affected by other economic, business, and/or competitive factors; (10) the ongoing impact of the global COVID-19 pandemic; (11) economic uncertainty caused by the impacts of the conflict in Russia and Ukraine and rising levels of inflation and interest rates; (12) the ability of X-energy to obtain regulatory approvals necessary for it to deploy its small modular reactors in the United States and abroad; (13) whether government funding and/or demand for high assay low enriched uranium for government or commercial uses will materialize or continue; (14) the impact and potential extended duration of the current supply/demand imbalance in the market for low enriched uranium; (15) X-energy's business with various governmental entities is subject to the policies, priorities, regulations, mandates and funding levels of such governmental entities and may be negatively or positively impacted by any change thereto; (16) X-energy's limited operating history makes it difficult to evaluate its future prospects and the risks and challenges it may encounter; and (17) other risks and uncertainties separately provided to you and indicated from time to time described in filings and potential filings by X-energy, AAC or X-energy, Inc. with the SEC.
The foregoing list of factors is not exhaustive. These forward-looking statements are provided for illustrative purposes only and are not intended to serve as, and must not be relied on by investors as, a guarantee, an assurance, a prediction or a definitive statement of fact or probability. You should carefully consider the foregoing factors and the other risks and uncertainties described in the "Risk Factors" section of AAC's Annual Report on Form 10-K, its subsequent Quarterly Reports on Form 10-Q, the proxy statement/prospectus related to the transaction, when it becomes available, and other documents filed (or to be filed) by AAC from time to time with the SEC. These filings identify and address other important risks and uncertainties that could cause actual events and results to differ materially from those contained in the forward-looking statements. These risks and uncertainties may be amplified by the conflict between Russia and Ukraine, rising levels of inflation and interest rates and the ongoing COVID-19 pandemic, which have caused significant economic uncertainty. Forward-looking statements speak only as of the date they are made. Investors are cautioned not to put undue reliance on forward-looking statements, and X-energy and AAC assume no obligation and do not intend to update or revise these forward-looking statements, whether as a result of new information, future events, or otherwise, except as required by securities and other applicable laws.
No Offer or Solicitation
This press release is for informational purposes only and is neither an offer to purchase, nor a solicitation of an offer to sell, subscribe for or buy, any securities or the solicitation of any vote in any jurisdiction pursuant to the Business Combination or otherwise, nor shall there be any sale, issuance or transfer of securities in any jurisdiction in contravention of applicable law. No offer of securities shall be made except by means of a prospectus meeting the requirements of Section 10 of the Securities Act.
Participants in the Solicitation
AAC and certain of its directors and executive officers may be deemed to be participants in the solicitation of proxies from AAC's shareholders, in favor of the approval of the proposed transaction. For information regarding AAC's directors and executive officers, please see AAC's Annual Report on Form 10-K, its subsequent Quarterly Reports on Form 10-Q, and the other documents filed (or to be filed) by AAC from time to time with the SEC. Additional information regarding the interests of those participants and other persons who may be deemed participants in the Business Combination may be obtained by reading the registration statement and the proxy statement/prospectus and other relevant documents filed with the SEC when they become available. Free copies of these documents may be obtained as described in the preceding paragraph.
Media Contact:
Robert McEntyre, X-energy
media@x-energy.com
(301) 358-5620